🌞 Weekly News & Updates from Meadowridge School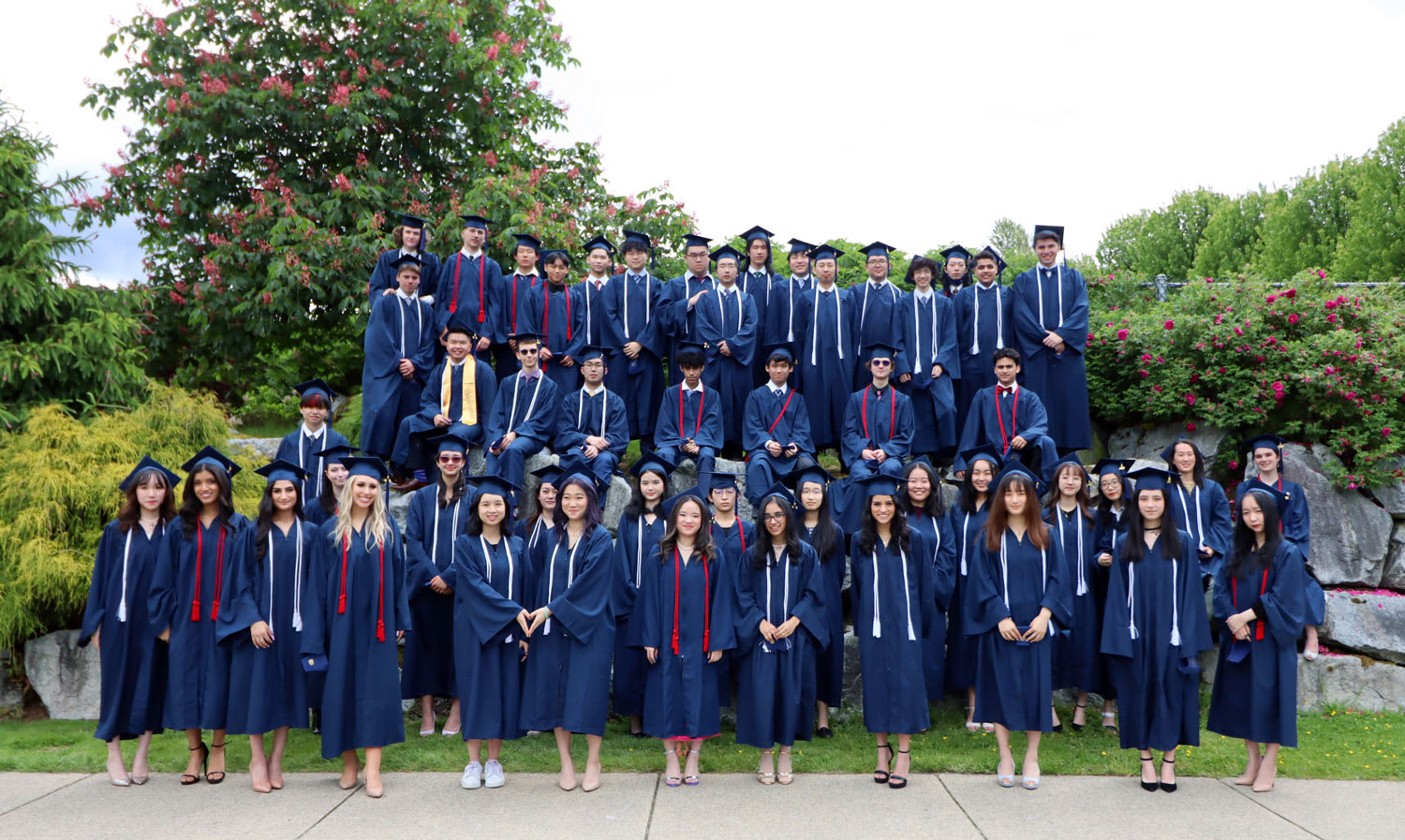 Our graduates are headed to universities around the world to study in a variety of unique and competitive programs. More than that, they're also an intelligent, caring, and creative bunch. Get to know our Class of 2021 at meadowridge.bc.ca/meetourgrads →
Meadowridge students earn top marks at mathematics and computer contests
Each year, Meadowridge students participate in many mathematics and computing contests. Some are organized by the teachers, while others are found and entered by the students themselves. This year, we are proud to announce the winners of these many contests and share with you the impressive results – each of these winners placed in the top 25% of the contest competitors! This includes students from across Canada and around the world. Check out the photos and full list of our winners →
Awards & Recognition Committee Presents: Student Stories
Get to know our latest Gryphons of the Month! These teacher and peer-nominated learners are demonstrating learner profile attributes in unique and inspiring ways. This month, we have three elementary students who used their talents to take action, a middle school student who is teaching her peers how to fight racism, and a high school student who is taking care of their family, neighbours and friends. Meet this month's nominees →
Bussing for the 2021/22 school year is now open
Bus registration for the 2021/22 school year is now open and due back to the school by August 2, 2021. Register online at meadowridge.bc.ca/bussing →
High school students: your spirit day is tomorrow!
Friday, June 4 is the first of our three Spirit Days. In light of the tragic discovery at a Kamloops residential school, we will start the day with a moment of silence in honour of the victims, their families and the impact of residential schools on our society.
For Middle and High School students, Spirit Day will be a full day off the timetable, where students will be organized in cohorts for some fun and friendly competitions. A hotdog lunch will be provided by SAGE Dining for all the students and staff on their respective Spirit Day. Students are invited to wear their House shirts, PHE bottoms and running shoes, as well as are encouraged to bring a hat and sunscreen. Refreshments and snacks will be provided throughout the day on the backfield.
Friday, June 4 (High School)
Friday, June 11 (Middle School)
Friday, June 18 (Elementary School)
These are the days that will decide our House Cup! Kanaka has held on to a comfortable lead all year – can the other Houses make up ground on Spirit Day?
Spirit Day SAGE Dining Menu
With Spirit days right around the corner, families may have some questions regarding pre-ordered lunches. If you have pre-ordered your lunch, please know that SAGE will cancel all lunches of students on their respective spirit days. Please continue to order your lunch as per usual. For those who may be a little extra hungry and are looking for more, we will have lunch as normal during each school's lunchtime.
Spirit Day Menu
Second Cross-Country Running Challenge – win House Points!
We'll be releasing our second Cross-Country Challenge next week and are inviting all students, staff and parents to participate! Students and staff will be running the North Forest trails, while parents are invited to choose their preferred locations.
Where & What: Running Categories are 1 lap (.75km), 2 laps (1.5km), or 5 laps (3.75km) around the North Forest. Parents can record their distances at their respective locations

When: June 10th to 18th
All participants will earn five points, while the top three runners will receive 30 points (1st place), 20 points (2nd place), and 10 points (3rd place).
Categories will be broken down by grade, staff/teachers, and parents. We will be releasing the details next week on June 10, so please pay attention to the eGryphon and get ready to earn some house points!
30-Day Challenge Wrap-Up
Well, the last 30-Day Gryphon Challenge wrapped up this past Sunday and it appears that 58 people have completed the challenge without any misses or errors, exactly half the number that officially started the journey on May 1st. Congratulations to all students, parents, alumni, staff, and family members that were involved, whether you finished or not.
Shirts will be delivered next week, or posted in the mail for those outside the general surrounding community. Wishing you all the best this summer and encourage you to stay active and healthy.
Here is a little video that shows some of the participants in action →
Meadowridge Education Investment Deposit (MEID)
If you are a family that is not returning next year, you may be wondering how to get back your Meadowridge Education Investment Deposit. To do so, you are requested to complete the attached MEID Reimbursement Request Form and return it the finance office along with the original duly signed certificate that was issued to you when the investment was made. If the original is being held by the finance office already, you can return the duly completed request form by email to billing@meadowridge.bc.ca.
Families may donate a portion or the full MEID when they leave. To do this, you can indicate this on the request form.
Reimbursement cheques will be issued on July 15, 2021 provided the finance office has the written request and the original certificate on hand by June 30, 2021.
If you have lost or misplaced your original certificate, please advise the Finance Office as soon as possible at billing@meadowridge.bc.ca.
For any question regarding this please contact the Finance Office.
A reminder from the Library: bring your books back before the summer
As the school year comes to a close, the library is asking for all library books to be returned to the library by June 11. Please also not that Middle and High School textbooks will be returned June 23 and 24.
Spirit Days
Friday, June 4 (High School)
Friday, June 11 (Middle School)
Friday, June 18 (Elementary School)
Cafeteria Lunch Planned by Grade 1
Thursday, June 17
🔗 Useful Links & Resources
FUN FACT: Most elephants weigh less than the tongue of a blue whale.
MEADOWRIDGE SCHOOL
12224 240th Street Maple Ridge, BC V4R 1N1